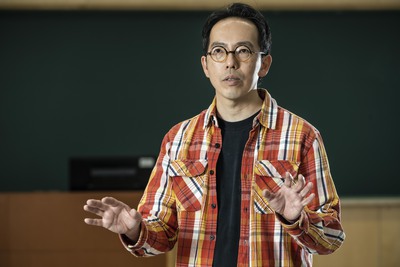 ▼
Naohiro Matsumura
Professor, Ph.D.
Short CV (Last updated February 4, 2018)
CV (Last updated July 10, 2017)
Address
Graduate School of Economics, Osaka University, Office #356, 1-7 Machikaneyama, Toyonaka, Osaka, 560-0043 Japan
(Google Map, Access map, Toyonaka campus map)
Summary
I was born in Osaka in 1975, grown up in Osaka, sometimes lived in Tokyo, US-IL and US-CA, and currently live in Osaka. I received my B.S. and M.S. in Engineering Science from Osaka Univeristy in 1998 and 2000 respectively, and Ph.D. in Engineering from the University of Tokyo in 2003, where I studied artificial intelligence. I joined the faculty of Osaka University in 2004 after spending a year as a post-doc at the University of Tokyo. I am also the director of Osaka University Shikake Lab.
Research Topics
Theories and methodologies of behavior change.
Shikake Lab's Mission Statement
To make a contribution to the world by making shikakes that change our behaviors and result in social impacts.
Research Abstract
I advocated a new research field "Shikakeology" (an introduction by Osaka University is here.) A shikake (originally a Japanese word) is an embodied trigger for behavior change to solve a problem. Shikakeology is the study to validate effects of shikakes to motivate people to behave. I collects hundreds of shikake cases to understand the mechanisms.
For example, the tiny shrine gate reminds people of a holy place, and this prevents them from littering. The stairs decorated like a piano, on which people can actually make a piano-like sound with their feet, attract people's attention and encourage them to use the stairs rather than escalators.
So far, our laboratory has implemented many shikakes, such as a trash bin with basketball goal, a lion-style automatic hand disinfecting apparatus, and so on. Throughout these researches, we are attempting to construct theories and methods of behavior change in order to make the world better.
Frequently Asked Question
Q. Are shikake and nudge the same?
A. Although the purpose of promoting behavioral change is the same, the following points are different.
Shikake
Nudge
Taking advantage of people's playfulness
Encouraging conscious behavior change
Targeting homo ludens
Libertarian alternativism
Pareto free
Not part of any particular academic field
Taking advantage of people's systematic biases
Encouraging unconscious behavior change
Targeting humans
Libertarian paternalism
Pareto optimum
A part of behavioral economics
About Accepting Seminar Students
Our laboratory accepts applicants who want to study shikakeology.
The activities of our labotaroty include:
- desinging, implementing, and evaluating shikake(s),
- writing paper(s) and presenting at conference(s), and
- various activities (seminar lodging trip, parties, university festival, etc).
The policy of our laboraoty is "Work hard, play hard." Although the activities might be a little harder than you think, let's make the most of university life and have fun!
About Accepting Collaborative Projects
We accept collaborative projects with companies as a means to drop Shikakeology knowledge into social implementation, within the scope of resources. If you are interested please feel free to contact me.
Books (Japanese, English, Simplified Chinese, Traditional Chinese, Korean)
Logos of Shikake Lab
Logos of Shikakeology